Fall Shorebirds of Seapoint
• Dunlin
• Pectoral Sandpiper
• Purple Sandpiper
• Ruddy Turnstone
• Killdeer
• Black-bellied Plover
• Greater Yellowlegs
• Quiz
---
Hot off the press!
Phillip's Fetching Birds 2011
A compact desk calendar for birdlovers. See what's inside.
---
Mysterious Puzzlebird Contest Test your birding ID skills and win a 2010 calendar!
---
Subscribe to
"You've got Birdmail"
You've Got Birdmail arrives in your mailbox just in time to bring you the bird of the month, links to the Mysterious Puzzlebird, Rare sightings and any other birdnews fit to print. Subscribe here
---
A bird and a blurb of what I've been fetching lately... Also posted daily on FaceBook as . . .
---
Dunlin (Calidris alpina)
8" Length. Both nonbreeding adults and molting juveniles first seen 9/19. Breeding plumage only seen in spring. Occasional visitor at Seapoint until early December singly or in small groups. More rarely thereafter.
Dunlin are one of my favorite sandpipers, at least partly because they are so easy to identify with those long drooping bills. It's also exciting to spot the odd one or handful mixed in with the resident winter flock of Purple Sandpipers now and then in winter. The plumages we see here in the fall are juveniles molting into nonbreeding plumage, and the nonbreeding adult plumage. I've not yet seen full juvenile Dunlin plumage at Seapoint as they seem to arrive much later here than some of the beaches just a bit farther north. For much the same reason (late to visit Seapoint) I've only seen the breeding adult plumage here during the spring migration.
Here's a molting Juvenile
Here's a couple of Dunlin already in nonbreeding adult plumage, it's a soft warm grey (as opposed to the cold grey of nonbreeding White-rumped Sandpipers) and which in some light conditions is almost brown. Darker grey streaks go through the lighter grey breast feathers continuing into the white belly feathers. Their long bills are hard to miss and are often dirty with some kind of gunk they've been probing through.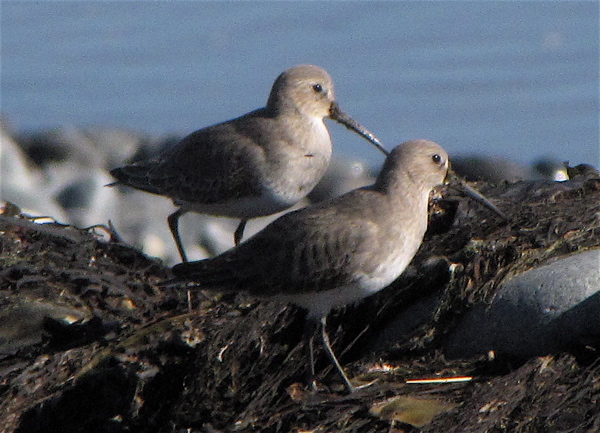 Even in flight the best field mark is the long droopy bill.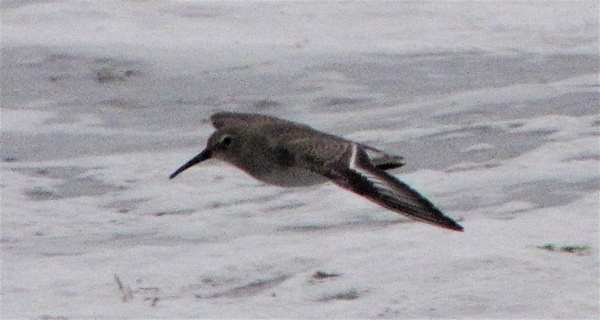 Here's a Dunlin with 3 juvenile Sanderlings that are much the same size, but the Sanderlings have much shorter and straighter bills and much higher contrasting dark and white feathering. Note the spotty streaks in the flanks and below the breast in the Dunlin.
Here's a pic with a juvee White-rumped (left) and Dunlin on the left. The Dunlin appears brown in this light, and is noticeably larger than the White-rumped.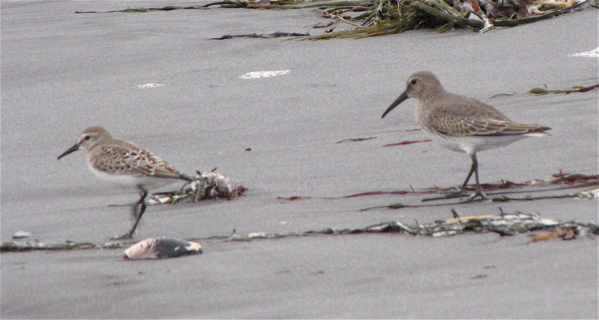 Another shorebird you're likely to see Dunlin flocking or foraging with at Seapoint are Purple Sandpipers which arrive in early November. They are close in size, and both have somewhat long droopy bills, but the Purple's bill is two-toned with orange, and the Purples are somewhat darker overall and have unmistakeably orange feet.
Next > Pectoral Sandpiper (to be continued)
© Copyright Phillip Augusta. All rights reserved.